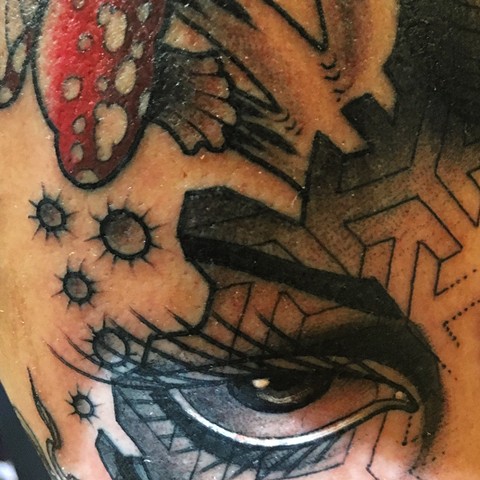 *BOOKS ARE CURRENTLY OPEN FOR 2019*
Greetings, visitors - welcome to my website and thanks for looking. You can view a collection of my work by clicking the PORTFOLIO link.
-I enjoy making all sorts of imagery for tattoos and paintings - I'm a fan of bright colors or black and gray, women, flowers, birds, animals, japanese and traditional american style tattoos, creepy imagery, geometric, abstract, decorative and antique designs, and anything weird or out of the ordinary!
-I'm probably NOT the artist for you if you are looking for tribal or celtic work, biomechanical (this includes skin rips, etc.), "watercolor" designs/tattoos without black or outlines, photo realism, or re-works.
-I work by appointment, so if you're interested in scheduling a consultation please contact me via any method listed on the contact page.
*Please include a detailed description of your tattoo idea, placement, and size.*
-I may choose not to take your project - please don't take it personally, I try to select tattoo projects that are suited to my style so that I can offer you the best possible outcome.
"The world is not the look of it, it's your way of looking at it."